#RockTheCrop Top
Posted on: July 21, 2015 by Yummo Mummo

There has been some fashionable controversy in O' Magazine about who should, and who should not, wear a crop top.
I don't agree with what was written in O Magazine (see pic below). What do I think? I think you should wear what the heck you want! I believe anyone, – whatever size, shape, or budget, can wear a crop top.
And I am going to show you how I, an in-betweenie (size 12) 39 year Mum with a stomach that has been pregnantly (not a an actual word) stretched 3 times, am rocking a crop top! I have a few different options, something for every comfort level! Let the show begin (cue catwalk music).
Can I just say, I LOVE the cobalt blue of this top. My #1 favorite fashion color. I have paired with a high waisted black skirt and my comfy striped flats. This is THE most comfortable outfit. I don't feel self-conscious at all, there is stretch and the black skirt hides my tummy if I'm feeling a little bloated. Top by S.H.E // $24.97 // Nordstrom Rack // Current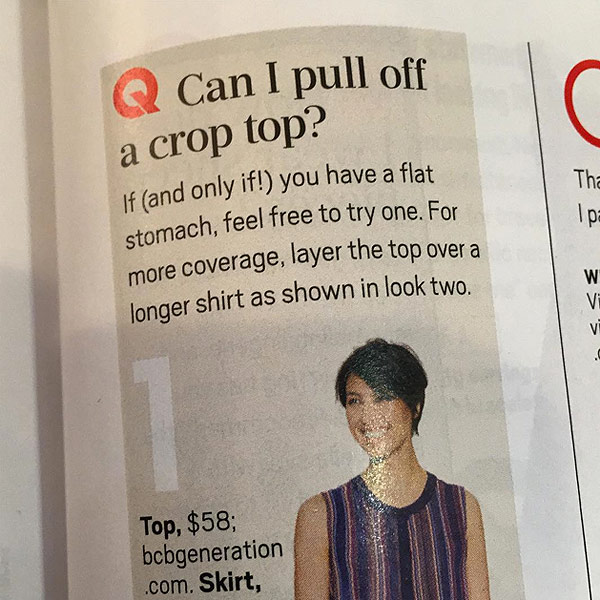 The question and response in O Magazine that upset some fashionistas! Photo credit : People Magazine. Readers respond on social media wearing crop tops with #RockTheCrop
Keep your eyes out for a blog post coming your way on this wrap polka dot skirt I picked up in Hawaii. It's more than you think! Since the skirt is high waisted, the skirt and crop top just meet. Reach up high to touch the sky and there'll be a little sneaky peek of my fluoro white belly! Ha Ha.
Top by Lush // $16.97 // Nordstrom Rack // Current
This is a fun option. I have paired this ultra flowy crop top by adding it on top of a basic black dress. (Disclosure : since my head is down, it brings the crop lower than normal). Top by Lush // $21.97 // Nordstrom Rack // Current
Here I am harnessing my inner Jackie O, and it feels "O"h so good! More of a formal look and fun to boot! Crop Top by Free Press // $21.97 // Nordstrom Rack // Current
Skirt by Free Press // $24.97 // Nordstrom Rack // Current
This look says "Hey, you can't tell me I can only wear a crop top if I have a flat stomach!". I've had this high waisted skirt for donkey's years and I love it, from Bebe. This top looks made for it. Mixing some print by adding some cheetah in the necklace with stripes. Fun. #effyourbeautystandards
Crop Top by S.H.E // $26.97 // Nordstrom Rack // Current
Haven't had enough of #RockTheCrop ? I recently shared a post on FB from a blogger who was disappointed with what was written in O' Magazine too. Read her post on Rock the Crop Top.
Leave me your thoughts below. I read and respond to all comments!