YummoMummo – Swimsuit Edition Part #2!
Posted on: May 16, 2015 by Yummo Mummo

Alright fashionista's, it's time for Part 2 of YummoMummo-Swimsuit Edition. I will show you how to find the perfect swimsuit for you body type this summer. If you have not read Part 1 where I strut my stuff in my own swimsuits for the season, click here to catch up on Part 1, Cover Ups featured last week on the blog.
Let's get one thing straight, I LOVE shopping but I HATE shopping for a swimsuit. Change room lights are enough to make even the most fashionable woman feel anxious! Who's with me?
Read all the way to the bottom to see fellow fashion blogger Ask Suzanne Bell in her post "Poolside, Vegas!".
So let's break it down into some different body types: (don't take note of the model, they don't represent the actual shape always)

Pear shapes

Consider wearing horizontal stripes as well as prints, patterns and ruffles on the top half, as they will draw the eye away from the bottom. Sweetheart necklines will add the illusion of curves and padded cups will help fill you out a little more. Halter style will be the most flattering, as it will broaden your shoulders. High cut legs will help elongate your lower half. Avoid high waisted bikinis, as well as skirted bottoms or boy legs as they won't flatter at all. Here are a couple of examples of what you could wear. Also consider a tankini with a patterned top and solid dark bottom.




This is the suit I was wearing in my blogpost, but in black.
Apple shape
Apples shapes carry their weight in their mid-section with no well-defined waist, have fabulous legs and/or boobs. Creating a waistline is the goal when looking for swimwear. Black is not only slimming but also never goes out of fashion, just like a little black dress. Ruching around the stomach in small amounts can also be a good thing, just be careful not to overdo it. Avoid choosing a swimsuit with too much detail and fabric as this will add bulk to your midsection. High cut bottoms will make your thighs look larger. Avoid itsy bitsy teeny weenie bikinis. I also love the idea of color blocking.
One shoulder Bandeau One Piece from Target
// $31.99 // Also comes in Blue and Black
The shoulder detail will bring the eyes up and show off those great shoulders. The slight ruching at the waist is just enough for you to feel pulled in, but not adding bulk.
Hourglass
If you've got an hourglass figure, flaunt it! The hourglass is characterized by a fuller bust and bottom/thighs in contrast to a smaller waist. Wear tops with under wire and thick straps to hold up your bust and enhance you in all the right places. Prints and bold colors are all yours! Go for it!
Don't wear a tankini as you don't want to hide your waist. And don't wear ruffles in places you want to hide. If you want to wear a bikini this summer but feel perhaps you don't want to go the whole way, I love love love these high waisted bikinis. The white palette is going to do two wonderful things for you – show off your fabulous tan AND go great with so many different designs in cover ups!
Strawberry shape
This shape typically has a bigger upper body than the bottom half. Think broad shoulders and a big bust in relation to the waist and hips, so bust support is most important to keep the ladies happy!
A halter neck swimsuit with good support will look the most flattering. To draw attention to your hips, boy shorts or a small skirt are the way to go, high waisted bikinis will also help accentuate the area. Avoid wearing a top with skinny straps, steer clear of skimpy bottoms as they will just make your hips look smaller, which will make your upper body look larger than it already is. Below is an example of the perfect swimsuit (not the body though), I think this design is so cute and wish it would suit my body type.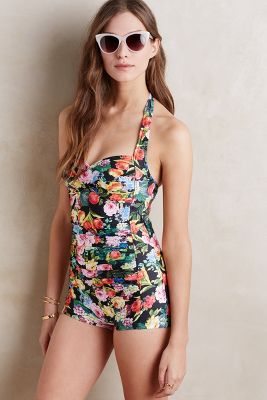 Long Torso
There is nothing more frustrating than having a swimsuit one piece that is giving you a wedgie and pulling down at your bust. There is always the tankini and bikini option but if you are wanting a suggestion for a one-piece, I found this one below designed especially for the longer torso. Cute design.
Small busted
You want to create the illusion of more in the bosom area than there really is. Don't wear thick straps as that will look disproportionate. Wear a bikini with ruffle cups. Super cute.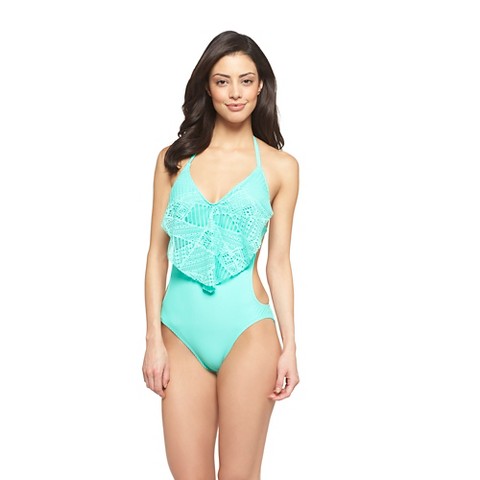 Now don't forget to head on over the Ask Suzanne Bell to see more fabulous cover ups! She's just back from Vegas, baby!
On a final note, I love love love the site
Swimsuits for All
as they have such a great selection and their models are so authentic and real! I am loving High Wasited Bikini's! I can see a polka dot bikini in my future (but not a teeny weeny one!).
Have you found your swimsuit this summer?
Please leave me a comment below, I love to read them.
If you want to keep up with my daily outfit of the day posts (#ootd), follow me on Instagram www.instagram.com/yummomummo
For my daily fashionable Facebook antics www.facebook.com/yummomummo